For Parents
"About Babies" Worksheets
"About Mothers and Fathers" Worksheets
For Professionals
This site complies with the HONcode standard for trustworthy health information:
verify here.

Information, resources and reassurance for new parents navigating the highs and lows of life with a baby
The birth of a first baby is one of the biggest life transitions an adult will experience. Major life changes are always accompanied by mixed feelings and most parents feel under-equipped for the tasks of infant care and managing a household with a baby.
This website contains information about common experiences in the early months of parenthood and some effective ways of thinking about and managing them.
All information on this website is drawn from up-to-date research and the experiences of many parents of new babies. We hope that you find the site helpful as you learn to live with your first baby.
Discover our free app!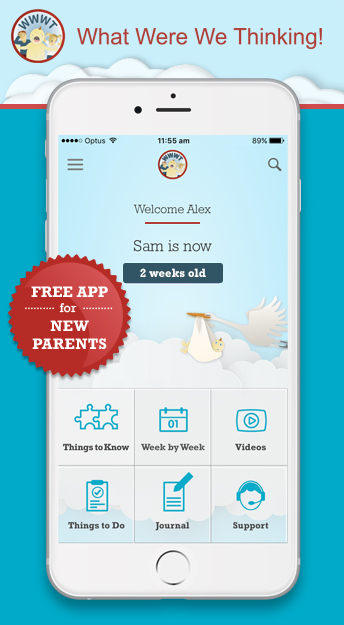 www.whatwerewethinking.org.au content was developed with funding from the Australian Government and the Jack Brockhoff Foundation. The authors have sole responsibility for the content of the website.
The site content is provided for your information; if you have comments you are welcome to submit them to:
This site is not a substitute for advice from your family doctor or another health professional.
If you feel sad, worried, or irritable most of the time, then it is important to talk to your family doctor.
The above text last updated 14 May 2020.
It's hard to believe six weeks have already passed since our precious Abigail arrived. Not to mention I've now been off work for over two months and Robert's back at work after three weeks leave.
Despite the warnings signs and the advice to avoid, the train wreck still occurs! I saw it coming. It was frustration that bothered me the most as I drove Oliver to the hospital to get his head stitched.
Why don't they just listen?
You say hello to a new future when you become a mum, but as Poppy learns, that doesn't mean saying goodbye entirely to the 'you' of the past ...