Voices on the blog
Topics
Stages
Our Blog Team
Discover our free app
The beautiful bond between twins
By Simone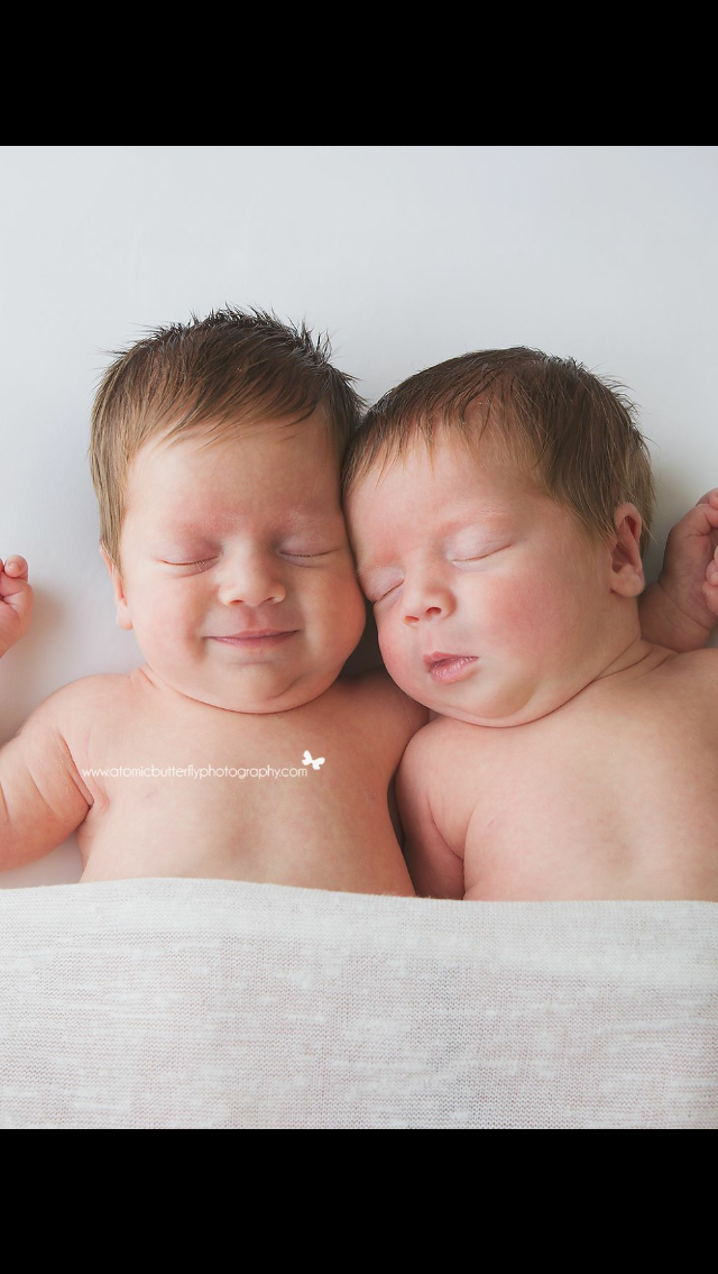 At seven weeks, I had an appointment with my obstetrician where he routinely checked for a heartbeat.
As I was a twin, I recall him saying, "Let's just make sure there's only one heartbeat," to which I laughed.
"Yeah, ha-ha, very funny," I thought. So, when he followed with, "Yes, there are two heartbeats!" I thought he was referring to mine and the baby's.
"No," he said. "Three heartbeats. Yours and your two babies."
I recall saying a few expletives and repeating the word "no" a few times. Meanwhile, Brendon was beaming. "Are you sure there aren't three?" he asked as I gave him the death stares!
They were identical girls, conceived naturally – the same as my identical twin sister and I. I didn't know how the genetic link worked; however, unlike fraternal twins, carrying identical twins of my own was completely random. I had the opportunity to create the same precious bond my mother had created with my twin sister and I, and our girls – hopefully – could share the same incredible bond my sister and I have.
I was incredibly lucky throughout my whole pregnancy, having only slight shortness of breath and mild hypertension. I had no morning sickness, no real pain (just discomfort towards the end), no cramps at night or varicose veins. I actually walked and swam up to a few days before my planned C-section at 34 weeks and six days. I loved my pregnancy and felt blessed the whole time.
Charli Grace and Makayla Blue arrived safely on the 4th of May 2016. They were perfect and healthy, around 2.4kg and with only 100 grams between them. Our beautiful girls spent two and a half weeks in special care as they couldn't latch or suck properly, but now at 12 weeks old they're nearly 5kg each!
If I were to offer any tips for pregnancy and early motherhood (not necessarily twin specific), these are what they would be:
No question is a silly one. Ask the midwives at the hospital as many questions as you can before taking your babies, or baby, home.
Do what works for you! Don't change anything if it's working for you (feeding together or feeding separately, breast versus bottle etc.) You need to be a functioning mummy so make sure it works for YOU too, not just the bubs.
Choose onesies with zips, not buttons. So much easier to undo at night – less restlessness for your bub and more sleep for you!
If you're struggling with sore nipples when breastfeeding, it may be due to poor latching, like me. None of the nurses explained to me that I had to put my finger in the side of my baby's mouth when breastfeeding to de-latch them. I was just pulling my bub off and getting painfully sore nipples.
If someone says some negative things about your pregnancy, which unfortunately for me was a daily occurrence with twins, put on a big smile and respond with either something deeply profound (to bamboozle them) or just something super positive.You'll be amazed how your choice of language can help you cope. Hold your head high and say to yourself, "I am doing this!"
To all the new mummies and mummies-to-be, congratulations! You don't need luck because you will be amazing without it. You were very carefully chosen by your baby to be their mummy, so just embrace it, strap in tight and enjoy the ride!
Posted in: A new reality Baby 0-4 weeks Late pregnancy Mums